Alighiero Boetti
Conceived and Squared
(Pensato e quadrato) Boetti's first work woven and held within a square weft is a perforated lace monochrome that plays on the dialectic between solids and voids; one reads millenovecentosettanta (nineteen seventy)— still horizontally, before the discovery of vertical reading that characterizes the tapestries of later years. In many of the subsequent works the artist preferred not to use his own hands— the skillful hands of the model-airplaine builder—leaving the execution of the works to chance or to the obedient diligence of other hands. In a play of give-and-take, Boetti established the method; events or other people did the work.
Alighiero Boetti --
1940 Born in Turin, Italy,Lived and worked in Rome ,1994 Died in Rome, 24 April
Formazione--
Autodidatta segue la corrente della Pop-Art, eseguendo bozzetti a matita o con altri mezzi grafici su oggetti di uso comune. Nel 1969-70 ha fatto parte del gruppo dell'Arte povera.
Artist's Statement (1967)
In 1948 I tore a large sheet of brown paper to get little rectangular pieces that I piled up, and with which I erected a rather unstable column. In 1954 I straightened out a piece of corrugated cardboard with a surface area of a square metre. Since 1957, without interruption, I have been smoothing out the silver paper from cigarette boxes. In 1962 I began to detach the filters from cigarettes, with which I created long strips; in the case of the Murattis, I was startled to note an extremely interesting granular stratification. In 1958, under the guidance of Mr. Sergio Vercellino, a resident of Vagliumina (Biella) and an agriculturalist, I cut, with a scythe, about 3 m3 of grass. In 1950 about twenty small ice cream glasses, which I collected with some difficulty, were inserted one inside the other so as to form an arch. In the same year I filled a little plastic box with some twelve little matchboxes, and with a great deal of difficulty I bought a packet of Marlboro which I soon took apart, flattened and stretched out. In 1949 I had rolled up a metre of yellow fabric and put my little finger in it to form a kind of tower of Babel. In 1953 I took a red or blue rubber band and stretched it with the four fingers of my right hand to form a square. A pile of sand about 30 cm. high was made in 1949, in Alassio, where I also dug a big hole until I found water. The first pile of matches and the first bundle of pencils date back to 1947. There were also countless works either with salt water or aqueduct water, or with other liquids of various kinds. Using a pencil as a ruler I cut up a manifesto in 1948, and in the same year, if I remember correctly, I poured an inkpot into a glass full of sawdust. In April 1951 I melted tinfoil and other metals and poured them into some water. The first experiments with a sheepskin that I squashed against some glass, not to mention the experiment of pouring liquid sugar on the marble kitchen table, took place in 1952-53. Bending a piece of rubber between two fingers, rolling a sphere on a plane inclined by myself to this end, rolling up a soft wire inside a pencil, mixing different colored powders, these are the works carried out between March and April 1949. From 1946 onwards, I have continuously poked fires with the help of various materials. In 1954 it took me three days to glue together a manuscript that I had torn into a thousand little pieces; two hours were enough to put in a vertical position, in a line, 342 matches; it took me a moment to put a weight on a spider's web; I took advantage of the early hours of the afternoon to strip off the bark of a tree to see its smooth, moist surface.Alighiero e Boetti
Afghan and Pakistani embroidiers....
PESHAWAR, Pakistan
-- The young woman looks like an unlikely public enemy of Afghanistan's Taliban regime.
She has shed the heavy, all-encompassing burqa that women in her native Afghanistan are required to wear and has donned the female attire common in Pakistani cities -- a calf-length shirt over loose trousers and a light, gauzy head scarf called a dupatta.
But as an exiled Afghan working for the Revolutionary Association of the Women of Afghanistan, an underground network known as RAWA, she risks her life daily, the 21-year-old says.
The 2,000-member, all-female organization is devoted to fighting for the rights of Afghan women and exposing what it sees as Taliban atrocities.
"It is more dangerous now," says the young woman who, fearing for her safety, gives her name only as Marina.
"It is an uncertain situation," Marina says about the volatile climate in Peshawar, the dusty, frontier city in northern Pakistan, a hot spot for fierce anti-American protests by Islamic militants. "And with such a high number of (Afghan) refugees, you cannot screen everyone. You could be talking to anyone."
RAWA represents everything that the fundamentalist Taliban regime hates. Founded in Kabul, Afghanistan, in 1977 as a feminist organization, RAWA began exposing excesses committed by warring factions that arose after the collapse of the Soviet-backed regime in 1992 and then by the Taliban, which seized power in Kabul in 1996.
....RAWA members working among Afghan refugees in the Pakistani city of 2 million have established 24 home-based schools and literacy classes for people too poor to pay for their own educations. Calling themselves social workers, they have set up embroidery and carpet-weaving centers to help women in refugee camps earn a little income.
Dal 1968 attua lo sdoppiamento
della propria figura di artista con l'opera Gemelli: una cartolina postale dove si vede Boetti che tiene per mano un altro se stesso, simile ma non identico, mentre camminano in un viale alberato. Alla fine del 1972 si trasferisce a Roma e inizia a firmarsi "Alighiero e Boetti". Il lavoro sul tema del doppio corrisponde spesso alla realizzazione di opere e progetti con interventi esterni, che coinvolgono una pratica anonima e collettiva.
Vengono dichiaratamente affidati a molteplici esecutori le carte ricoperte di tratteggi a penna a biro, i ricami Mappa, riproducenti un planisfero politico dove ogni nazione è indicata con i colori della propria bandiera (realizzati dal 1971 in Afghanistan), altri tipi di ricami con lettere che compongono testi in italiano e nella lingua afghana (farsi) o con elementi figurali accostati l'uno all'altro fino a ricoprire l'intera superficie della tela (Tutto).
Ai numerosi procedimenti che Boetti sperimenta, si affiancano spesso il senso del gioco e la piacevolezza del colore. In un'intervista al 'Corriere della Sera' del 19 gennaio 1992, parlando dei ricami 'Tutto', l'artista dichiara:"Per non creare gerarchie tra i colori li uso tutti. Il mio problema infatti è di non fare scelte secondo il mio gusto ma d'inventare sistemi che poi scelgono per me".
Boetti's maps
will always be my favorites. Still incredibly topical, the tapestries were designed by people who were asked to depict different countries according to the pattern of the national flag. Once the layout was ready, Boetti gave the design to Afghan women from Peshawar for the actual weaving. The versions of each map vary because of the manual execution and political changes in the world. Gallery Seno has issued a catalogue for the show with an essay by Angela Vettese.
Alighiero
was involved in the Italian arte povera of the 1960s. The arte povera artists (Boetti, Kounellis, Merz, Pistoletto, and others) dealt in a simple manner with everyday situations that usually go by unnoticed. They often made use of natural, authentic materials. However, in 1969, Boetti distanced himself from the arte povera, because in his opinion the artists involved in this movement attached to much value to the materials used. The gist of his criticism against arte povera was that, according to him, the public aspect was beginning to predominate. Boetti's art undermines the aura of museum-oriented art. Durability and commercial value are not criteria that Boetti takes into account. This becomes clear in the very short performances from the 1970s, in which Boetti is standing with his back to the camera, writing a sentence on the wall, in ordinary and mirror writing at the same time. The writing is perfectly controlled, in fluent movements he writes with both his right and left hands, forwards and backwards. All that remains of Oggi è venerdi ventisette marzo millenovecentosettanta (Today is Friday, March 27th, 1970) is a photograph. Ciò che sempre parla in silenzio è il corpo has been preserved for posterity in the form of a video recording. In this performance, Boetti writes 'Ciò che sempre parla in silenzio è il corpo' on the wall, which means something like: 'the body always speaks in silence'. With these performances, Boetti seems to want to convey that language is a construction of thoughts that originates in the brain. Language can just as easily be made up of signs other than letters (body language) or of other combinations of letters. For example, language could also be learned as mirror writing. Boetti manipulates language by means of mirror effects, which disturbs the real language.
L'artista si fece chiamare
fin dagli inizi della sua produzione artistica in un modo che risulta essere emblematico della sua natura di artista e del suo modo di fare arte: Alighiero e Boetti. La "e" che lega il suo nome al suo cognome è indice di quell' idea di alterità così presente nella poetica dell'artista, infatti con quella vocale non si vuole intendere una lettera ma una congiunzione che si riscontra solo con il riconoscimento della distinzione reciproca tra il nome Alighiero e il cognome Boetti. Non per questo bisogna considerare Alighiero rappresentativo dell' individuo privato: era sempre lui, l'artista ma nella valenza complementare di Boetti "...come il disordine sta all'ordine, il provvisorio al definito [...]Non principi antitetici, piuttosto modalità diverse, alternanza di manifestazioni asimmetriche da ordine e caos , secondo le cosmegonie della più antiche saggezze filosofiche, e secondo le più moderne teorie scientifiche sull'origine dell'universo. Ciò che Alighiero amava più nei tappeti turkmeni o nei tradizionali arazzi di Bukhara era, nascosto nell'apparente simmetria assiale del motivo, l'errore sublime, la dissimetria, la dissonanza di una losanga o di un mazzolino di fiori in più, come imperfezione deliberata e omaggio umile alla perfetta armonia divina
And a pair of works
by Alighiero Boetti adds a chilling timeliness. In 1969, Boetti drew national flags onto a world map, which he later commissioned four women in Afghanistan — "the best embroideresses in the world" — to re-create as wall hangings. Many of those nations no longer exist; the women have long since fled their homes, while their handwork graces a Midwestern museum.
As America, Italy and Afghanistan share a drastically altered map today, the gritty global spirit of Arte Povera resonates in the Walker's brilliant white halls.
the best
embroideresses
in the world" the best
embroideresses
in the world" the best
embroideresses
in the world" the best
embroideresses
in the world" the best
embroideresses
in the world" the best
embroideresses
in the world" the best
embroideresses
in the world" the best embroideresses
in the world" the best
embroideresses
in the world" the best
embroideresses
in the world" the best
embroideresses
in the world" the best
embroideresses
in the world" the best
embroideresses
in the world"
A typical day for Germana
begins at the crack of dawn when she wakes up to help her mother prepare tea for the family. Later, she assists her with the household chores. Next she is sent to a neighbour Shaano's house to learn embroidery. Shaano's own daughter sits there embroidering a cap for her prospective husband. It is customary for the girls to prepare clothes and linen for their weddings with their own hands.
Boetti's first Afghan embroidery
, 11 July 2023 – 16 December 2040 (1971). Bordered with zigzags and patterned with bright flowers like a sampler, the pair of cotton squares bear the date on which Boetti predicted h would die and that of the centenary of his birth. Brancusi-like, the work was realized in other materials, including incised wood and polished brass (the latter also at Sperone Westwater), which has a more obvious commemorative quality.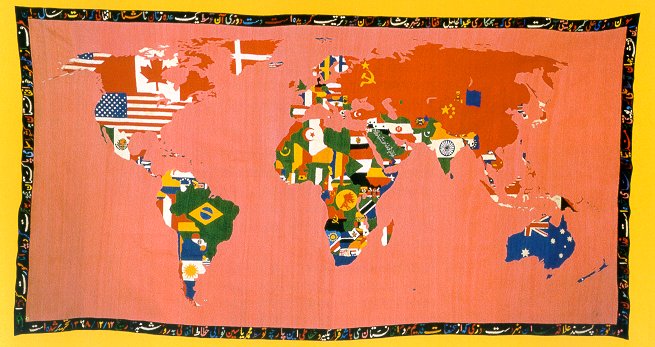 Boetti's autobiographical pieces
have a witty, poetic sensibility which set the tone for many contemporary self-portraits. He capriciously placed a butterfly on the chest of a clay figure entitled "Me sunbathing in Turin on 19 January 1969" and held hands with himself in "Twins", 1968 - one of a number of works illustrating his fascination with the dualities that exist within us. This ultimatelyled to him permanently changing his name to Alighiero e Boetti (Alighiero and Boetti).
Boetti commissioned huge tapestries of world maps, in which each country's flag is embroidered against brightly coloured oceans, from craftswomen in Afghanistan. As his interest in globalism grew they became an ongoing series, epically recording the world's fluctuating political identities for over two decades. His first embroidery is particularly poignant in this exhibition as it incorrectly predicts the date of his premature death by some thirty years.
BOETTI
link--
BOETTI
link--
BOETTI
link
--
BOETTI
link--
BOETTI
link--BOETTI
link--
BOETTI
link--
BOETTI
link--
BOETTI
link--
BOETTI
link--
BOETTI
link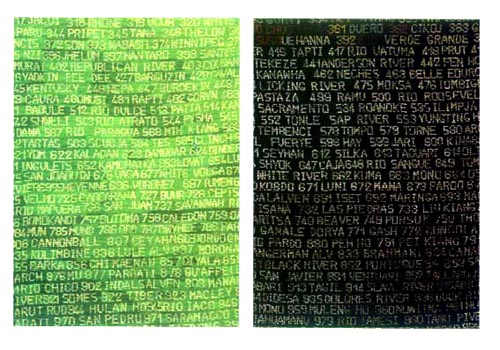 and via
Bob the Corgi
, this link:
TEDIOUS PIXEL ART
....Have you ever looked at a picture and thought to yourself, wow! wouldn't that make a wonderful cross-stitch... if only I knew how to turn it into a pattern!